Kayaking Class in Charlotte NC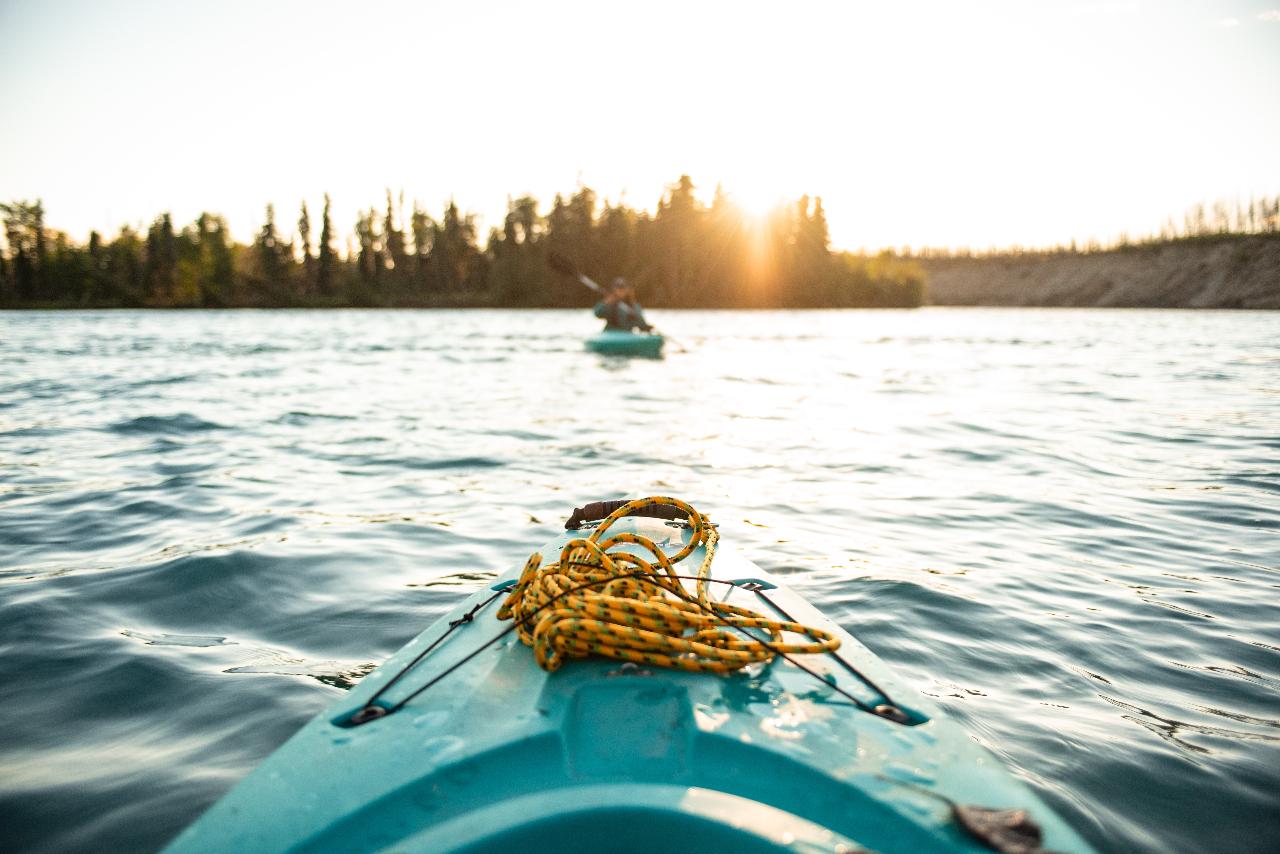 Duration: 2 Hours (approx.)
Location: Fort Mill, SC
Product code: P1C5GL
Trip Capacity: 8 Explorer Chicks
Cue the background music, "? Just around the river bend... ?", as we imagine Pocahontas on a beautiful summer day, exploring all of nature as it whispers confidences to her from the water. She was definitely onto something: The calmness felt floating weightlessly on top of the water as the sun glistens down on the ripples. The excitement felt as all the secrets found by way of water are revealed. (Yeah, we're ready to grab a paddle as well!) Want to begin your own paddling journey? Learn to kayak during our half-day kayaking class in beautiful Charlotte, NC!
More than just a fun way to explore our waterways, kayaking keeps us looking ahead and moving forward (literally and figuratively)! The challenges while learning to kayak might be physical and mental, but the reward you receive can be spiritual. Ever hear the saying, "One never steps in the same river twice"? Like water, being out in nature can change us in many ways, too. Experience it!

Learn How to Kayak

Why learn to kayak you ask? Well it's simple! Kayaking provides an everlasting relationship with nature, and what it has to offer you is something you will crave over and over again. While out on the water, all that surrounds you are the sights and smells of the wooded pines, the secret coves, and the sounds of wildlife—maybe an occasional fish or two jumping up out of the water. It's in these moments when you realize that it is just you, away from the rest of the world with a paddle in your hand.

Sound dreamy but never kayaked? It's all good! In this workshop, you'll learn:

the terminology used

proper paddling posture
basic strokes needed
safe paddling techniques
Discover everything you need to know to begin your own paddling hobby. All the equipment is provided! This Mini Adventure is spent on beautiful 28-acre Lake Haigler at Anne Springs Close Greenway nature preserve. Get ready and build your confidence to go explore on your own local waterway. Experience moments of peace and adrenaline out on the water—all wrapped up in one half-day kayaking adventure.
Dinner or Breakfast at the Gateway Canteen

Now we'd disappoint your mama if we sent you on your way hungry, and we can't have that. After your kayaking class, gather with us at the Gateway Canteen for a delicious meal. If you've opted for breakfast time, that means it's pancake time. Get ready for all the yummy fixin's! If you're joining us for dinner, your meals will be made with the freshest ingredients from their seasonally changing menu: choose from a variety of fresh salads or sandwiches and more! There are beer and wine available for purchase. Whatever you decide, grab it, find a seat with all your new besties, and talk about the cool stuff you saw. This is what Explorer Chick is all about!

Kayaking Workshops

Sunset Kayak
May 14, 2021

September 17, 2021

Spend a beautiful evening kayaking on the still waters of Lake Haigler! We will meet first and once fit with safety gear, we will make sure everyone is comfortable using their paddles and kayaks. We will then head out on Lake Haigler and explore the environment that surrounds it, all at your pace. After kayaking class, we will dine together at the Gateway Canteen with your choice of entree off the menu.

Paddle and Pancakes
July 17, 2021

Work up a hearty appetite by spending a beautiful morning kayaking on Lake Haigler! We will meet first and once fit with safety gear, we will make sure everyone is comfortable using their paddles and kayaks. We will then head out on the lake and explore the environment that surrounds it—completely at your own pace. Afterward, enjoy a delicious pancake breakfast served at the Gateway Canteen.

No experience is necessary for this fully-equipped guided kayaking workshop near Charlotte, NC. Come join us for a beautiful day of kayaking at Anne Springs Close Greenway!

What's Included:
All Equipment provided

Kayak
Paddle
PDF (personal flotation device)

2.5 Hour Guided Workshop
Choice of an entree off the menu following your event
*Explorer Chick and its partners reserve the option to modify trip itineraries at the discretion of your tour director as necessary due to weather, conditions, illness, injury, group dynamics, or other unforeseen incidents.
The Details
Check-in Time: 15 minutes prior to departure
Duration: 2.5 Hours
Women-Only, 21+
Restrooms Available on-site
Waiver
Your order confirmation will include a link to the Explorer Chick Smart Waiver. Please take a minute to sign online.
Weather Cancellation Protocols
You will be notified 2 hours prior to the event start if cancellation is needed.
This event can not take place during thunder and lightning conditions.
A delayed start will take place prior to a full cancellation if possible.
If a delayed start is not an option and the event gets canceled due to severe weather, you will be fully refunded.
Local Lodging Recommendations
Location:
Anne Springs Close Greenway
2573 Lake Haigler Drive
Fort Mill, SC 29715