Fat Tire Bike Tour in Scottsdale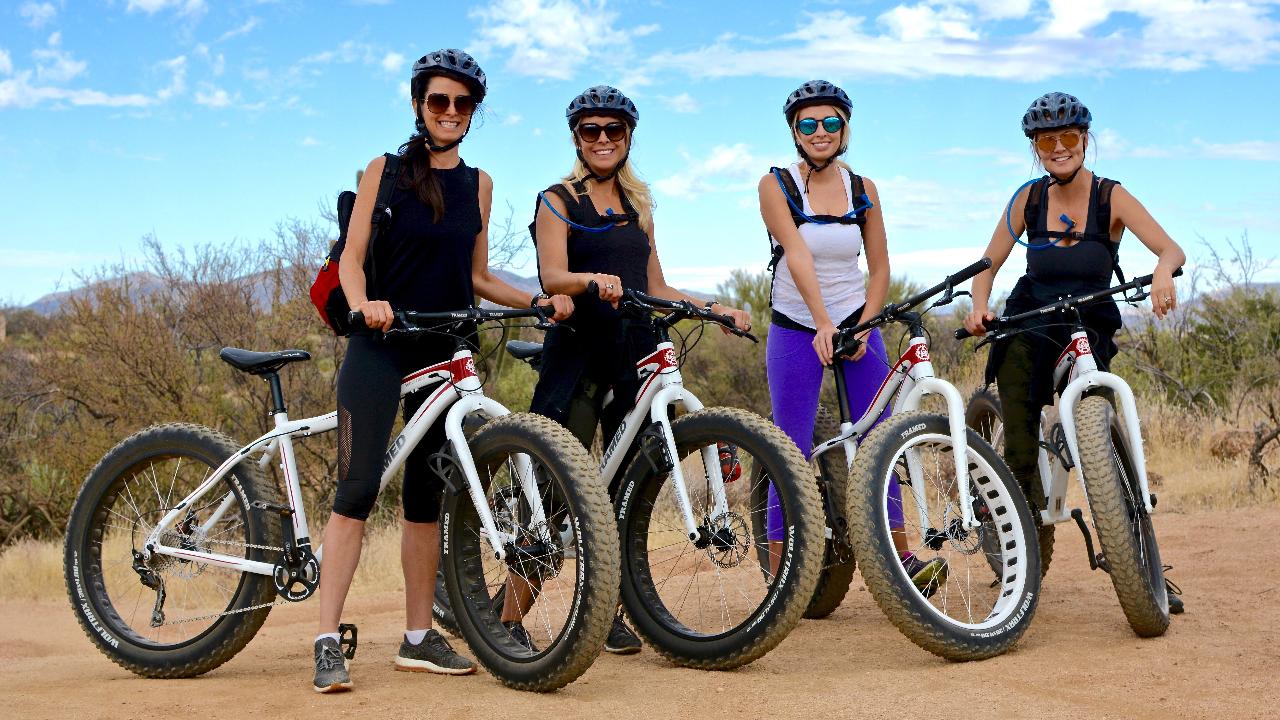 Duration: 4 Hours (approx.)
Location: Scottsdale , Az
Product code: PLMHGW
Trip Capacity: 10 Explorer Chicks
Spark that light back in your soul and let your inner child out. How? With this half-day Fat Tire Bike Tour Mini Adventure! Remember that freeing feeling you felt while riding your bike back in the day? Remember the first time you threw your hands up in the air and yelled, "Look! No hands!" That is what it feels like while riding a fat tire bike! Spend half the day cycling through the Sonoran Desert. Thanks to signature wheels creating a smooth ride, you glide over any rough terrain. It's true: these magic bikes have the power to make you feel like you're an 8-year-old kid again!
What is Fat Tire Biking?

Simply put, fat tire biking is a style of biking that combines the look and frame of a mountain bike with "fat" tires. These impressive tires can range from 3.8 inches wide to sometimes exceeding 5 inches! The tires create a huge contact patch with the ground, grabbing up traction on slick and loose surfaces. They are heavier than most bikes and turn slowly, but speed isn't the point here. The massive volume of the fat tires allows you to run air pressures so low, they barely register on a normal pump's gauge. The resulting floatation enables them to roll over snow, sand, mud, wet roots, rocks, and other terrains that would otherwise be impassable.
An Easy Bike Tour for Everyone
Is grace not on your side? Are you the friend that always manages to get injured on adventures? Then this is the perfect day trip for you! ? Simply put, fat tire bikes are harder to mess up with. The tires are less apt to slide in corners, lose traction on rocks, or fall into ruts—even on normal trails. And guess what, you soon-to-be-trail-riding rock star? Fat tire bikes also increase your skill capacity when it comes to rough trails. Riding one of these feels like a dream. It's like having the traction of a tank combined with the comfort of a memory foam pillow.
Our Fat Tire Bike Tour Through the Sonoran Desert
So where will you beauties be riding these beasts? Through the complex and distinct beauty of the Sonoran Desert—the most biologically diverse of the North American deserts. A wide range of wildlife species can be found all throughout the lands. The scenery consists of distinct mountain ranges separated by wide valleys—including large saguaro cactus!?The Saguaro Cactus is the signature plant of the Sonoran Desert and is its only natural habitat! These plants, together with the wide variety of trees, shrubs, and herbaceous plants make some impressive sights to behold on your tour!
All Biking Equipment (and Snacks!) Provided
Yep! All you have to do is show up with your adventure bestie, or ready to make some new ones. We'll take care of the planning and equipment, including:
fat tire bike
bike helmet
gloves
hydration packs (with brand new mouthpieces each trip)
water
snacks (but you may want to bring extra)
What's Included
All equipment provided.

Fat Tire Bike.
Helmet.
Gloves.
Hydration packs with Brand New mouthpieces.

Bike fitting on-site to ensure you will have the perfect ride for you.
Instruction - No experience necessary!
Water refills.
Snacks to stay fueled. (This is an active event and you know your body best! If there is something specific you will need, it is best to pack supplemental snacks.)
*Packages do NOT include your airfare, airport transportation, additional alcoholic beverages, or costs for additional activities.
*Packages do not include Tips for your Guides. For optional activities 10-20%. We strongly encourage you to recognize your Guides personally for their hard work and keeping you safe.
*Explorer Chick reserves the option to modify trip itineraries at the discretion of your tour director as necessary due to weather, conditions, illness, injury, group dynamics, or other unforeseen incidents.
Details
Check-in Time: 30 minutes prior.
Women-Only, 21+.
Restrooms are available at the Trail Head.
Waiver
Your Order Confirmation will include a link to the Explorer Chick Smart Waiver. Please take a minute to sign online.
Your Order Confirmation will include a second link to the Sonoran Outdoor Adventures Waiver. Please take a minute to sign online.
Location:
McDowell Sonoran Preserve
30301 N Alma School Parkway
Scottsdale AZ 85262
Weather Cancellation Protocols:
You will receive a full refund in the case of operator cancellation due to severe weather or other unforeseen circumstances.
Closest Airport:
Phoenix Sky Harbor International Airport (PHX).
Local Activities:
Recommend is a trip to Sedona to check out the many shops, art galleries, spas, and wineries. (about 2 hours from Phoenix).
Local hikes to check out:

Camelback Mountain.
Tom's Thumb.
Echo Canyon.
Superstition Mountain- Flat Iron.