Banff Winter Wanderland Adventure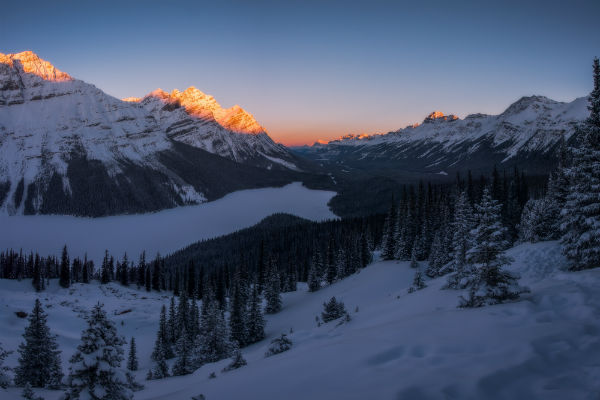 Duration: 7 Days (approx.)
Location: Banff, Alberta
Product code: PQELFB
What's Included:

Dog Sledding on shared sleds with instruction and the opportunity to drive the sleds with assistance from a guide. Weight Limit: 250 lbs.
Snowcat assisted snowshoe tour on Fortress Mountain. Includes a hot lunch, snowshoes, and trekking poles.
Guided tour into Johnson Canyon with ice cleats, poles, and snack included.
Private group lesson and game of curling including a catered dinner at the Recreational center. Includes all necessary equipment. Clean gym shoes are required.
Private group lesson and tour in Cross Country Skiing. All technical equipment will be provided. Trail to be determined based on trail and avalanche conditions.
Private transfer and tour of the Icefields Parkway with stops at several highlights. Bagged lunch included.
Private Full day of Group Ice Climbing in Jasper National Park with all safety and technical equipment provided.
5 Days/4 Nights Shared room at a Banff National Park area hotel with balconies/patios, mountain views, refrigerator, complimentary breakfast, Wi-Fi, and Outdoor Hot Tubs. Shared 2 per room.
3 Days/2 Night Shared room at a Jasper National Park Mountain Lodge on Lac Beauvertwith surrounded by pristine nature and wildlife with access to snowshoe and ice skate rentals. Room is equipped with refrigerator and coffee maker. Shared 2 per room.
Transportation from from initial pick up at Rendezvous hotel, return on Day 7, and all included adventures.
All meals from Lunch on Day 1 through Lunch on Day 7: B-6, L-7, D-6
A commemorative Explorer Chick shirt
One experienced Explorer Chick Leader ensuring your trip is seamless and unforgettable!
Small Group experience! Your Explorer Chick Adventure is exclusive and limited to 12 women

*Packages do NOT include your airfare, airport transportation, rendezvous hotel stays, alcoholic beverages, Explorer Chick Leader tips, or costs for additional activities.

*All animal encounters are not guaranteed. Please keep in mind they are wild animals living freely.

*Explorer Chick reserves the option to modify trip itineraries at the discretion of your tour director as necessary due to weather, conditions, illness, injury, group dynamics, or other unforeseen incidents.