Surf Lesson Near Houston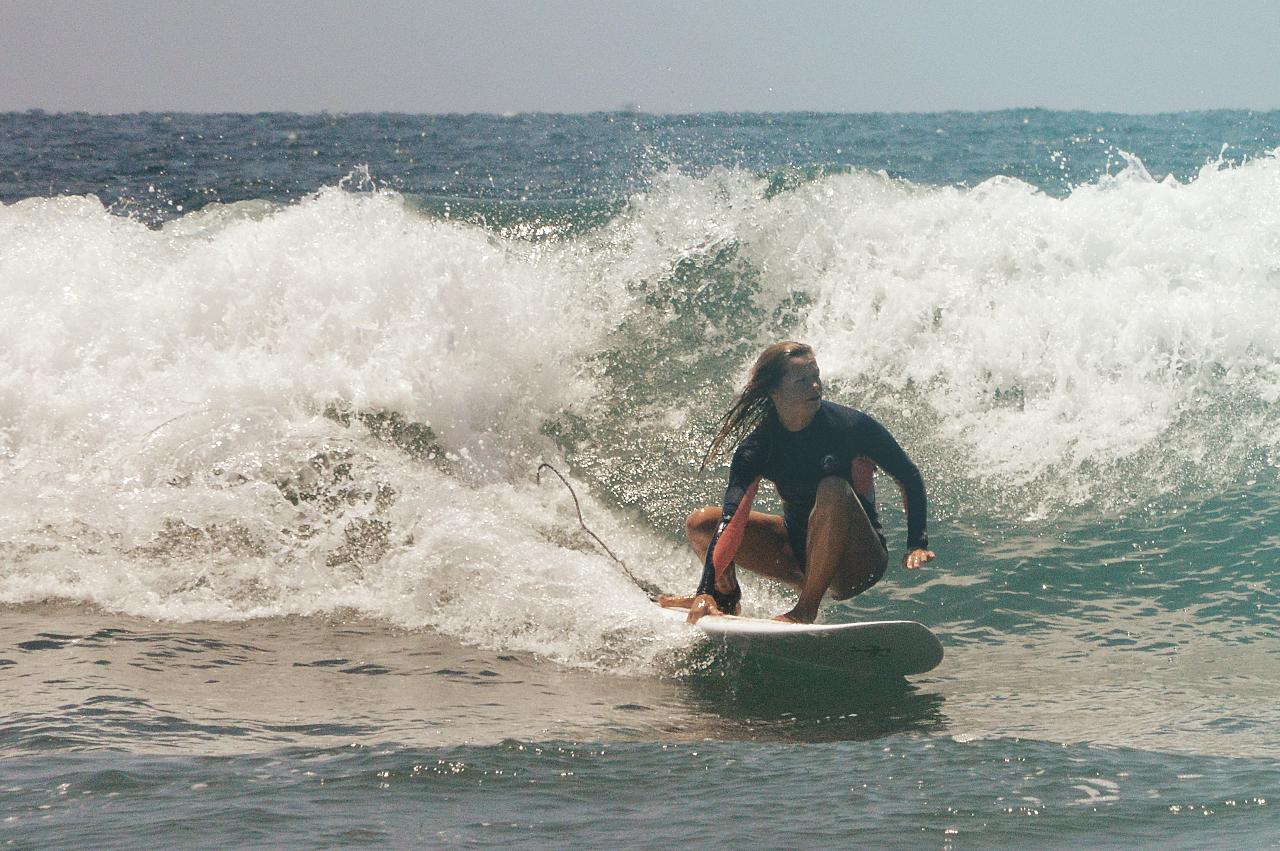 Duration: 2 Hours (approx.)
Location: Galveston, TX
Product code: PLK780
Trip Capacity: 11 Explorer Chicks
Call it an obsession, a compulsion, or just a healthy quest. The search for the perfect wave feels just out of reach, but the closer you can get the more fun you have! Riding a wave is a breathless experience. And the first ride is always unforgettable! ? Join us for a women-only beginner surf lesson near Houston in the Galveston Bay area.
Why learn to surf, you ask? There are lots of compelling reasons! First, it's a hobby and passion that can take you to some of the most beautiful locations in the world. Second, surfing allows you to experience them in a special and unique way. ?‍♀️ Surfing is also a super-fun way to get fit! It works all major muscle groups. You will feel like you are flying, skating, swimming and walking on water all in one good session. Finally, (and if we want to get all philosophical here) surfing also directly resembles life. It is about trying to squeeze every drop of life out of each and every moment we have.
Beginner Surf Lesson
This is a beginner-friendly surf lesson, no experience is necessary! Virtually anyone can start surfing mild beach breaks with just a bit of instruction. After your first couple of surfing lessons, you'll be ready for your next challenge— and oh, they keep on coming! Nobody said surfing was easy. ? At the end of your first surf lesson, with a bit of saltwater in your eyes, you may not necessarily feel all "at one with nature". But keep at it! After enough time staring at horizons, feeling changes in wind direction, and navigating coastlines you will definitely feel the connection. Every wave has a different feeling and carries its own personal story. Like all active sports and nature-based activities, surfing gets those endorphins going, but few pursuits can match the adrenaline kick of catching a great wave. ?
Surf Equipment Provided
Everything you need to learn how to surf is included! Surfboards and wetsuits are available on-site. All you need is some sunscreen, lip balm, water, and that can-do, kick-some-ass attitude!
Get a Workout in the Waves
Any given surf session will provide a full-body workout. From paddling to pop-ups to carving wave faces, a surfer comes out of the water having worked the upper body, core and hips, and increased their mobility and stamina. A greater lung capacity results from duck-dives and hold-downs. You will learn how strong you really are! When you're learning any other new sport is there a wave coming overhead, ready to lift you up or hold you down? Building this kind of confidence in the face of unique challenges is one of the most beautiful skills you can take out of the water into other areas of your life.
Professional Photographer On-Site
Finally standing up on your surfboard is an accomplishment that should be captured! You can't exactly grab a sick selfie while you're busy hanging ten, also while trying to remember everything you learned. Plus, your fellow surf lesson ladies are busy living out their own Blue Crush fantasies. They can't snap photos either. With everyone so busy in the water, who will be able to document the day? No worries. Knowing how Insta-worthy something like learning to surf is, we hired a professional photographer to capture everyone's best moments (and sides, of course). All you need to focus on is learning a new skill, meeting the challenge of it, and making some new besties in the process.
What's Included:
All equipment provided.
Hands-on instruction - No experience necessary!

1:2 Instructor to Student ratio.

Private group photographer.
*Packages do NOT include your airfare, airport transportation, additional alcoholic beverages, or costs for additional activities.
*Packages do not include Tips for your instructors. They work hard to ensure your enjoyment and safety. We strongly encourage you to recognize your instructors personally for their hard work and keeping you safe with a tip of 10-20% of the value of your adventure.
*Explorer Chick reserves the option to modify trip itineraries at the discretion of your tour director as necessary due to weather, conditions, illness, injury, group dynamics, or other unforeseen incidents.
The Details:

Check-in Time: 30 minutes prior.
Women-Only, 21+.
Max weight 200 lbs.
Basic Restroom is available at Seawall .2 miles down the beach.
There are no changing facilities at the beach. Plan to wear your swimsuit there or change Explorer Chick style (under a towel!) at the beach.
Waiver
Your Order Confirmation will include a link to the Explorer Chick Smart Waiver. Please take a minute to sign online.
Location:
C-Sick Surfing Lessons - 43rd Street Life Guard Shack
4300 Seawall Blvd
Galveston, TX 77550
Weather Cancellation Protocols:
You will receive a full refund or offered a different date in the case of operator cancellation due to severe weather or other unforeseen circumstances.
Closest Airport:
William P. Hobby Airport (HOU).
Local Activities:
Check out the Galveston Bay website to find the best shops, museums, and local attractions. You can also find all the hottest restaurants and bars, and the best places to stay there.