Amanda Valentine Bites: Moab Weekend Adventure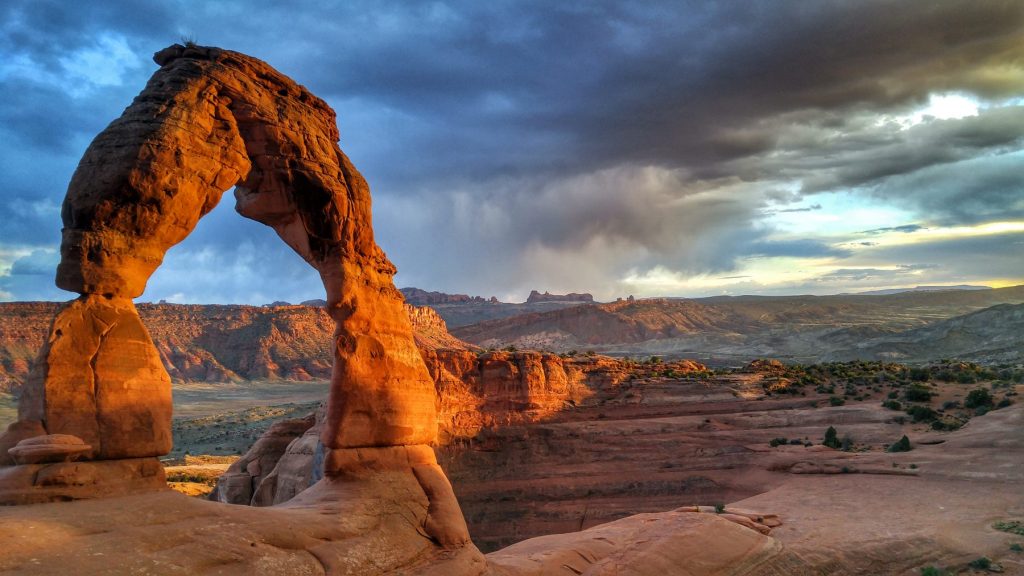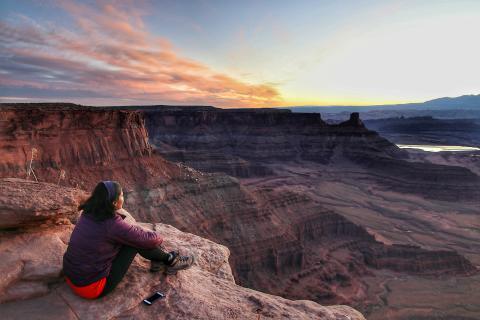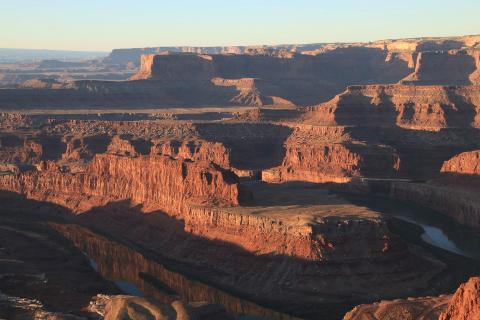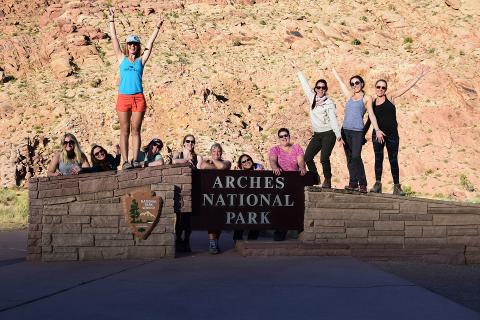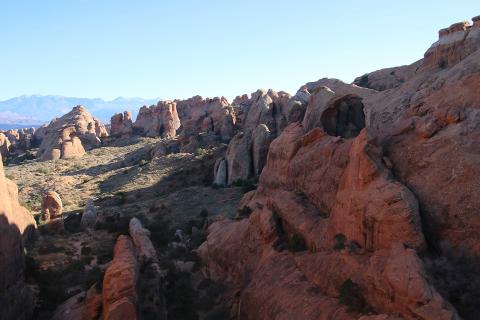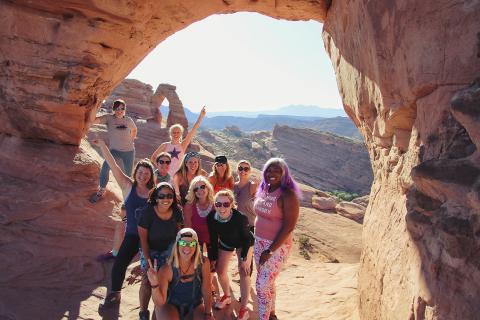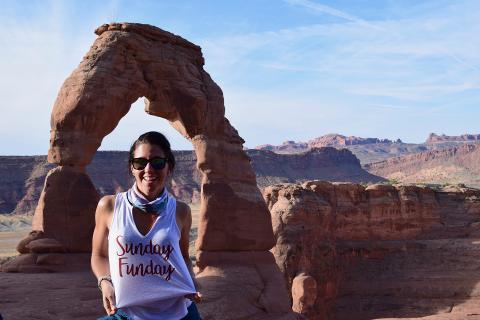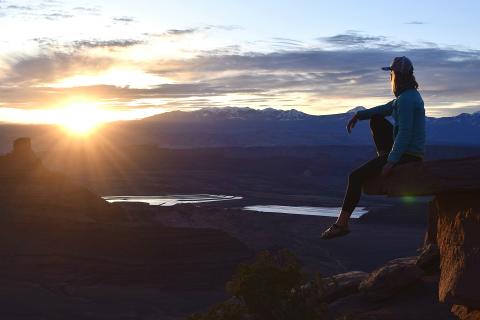 Duration: 4 Days (approx.)
Location: Moab, UT
Product code: PGKHU3
Wander among the sandstone pillars and enchanting desert landscapes with Amanda Valentine for a long weekend of National Park Hiking, Off Roading, Live podcast recording, and some serious Meal Prep. Oh, and a healthy dose of SHE-nanigans.
Explore 6 arches in one trail and quickly discover the namesake of Arches National Park. Catch an unforgettable sunrise at Deadhorse Point State Park as you sip your coffee and munch on your breakfast. Descend down layers of red, pink, brown, and white sandstone to enjoy a well earned lunch on the White Rim of the Colorado River in Canyonlands National Park.
Your thighs will sing every day as you walk a new trail, admire a new horizon, and explore a new National Park.

Your heart will swoon every night as you kick off your dusty hiking boots, share bad jokes, and enjoy fresh-made meals in the Amanda Valentine Bites townhomes.
Itinerary Overview:
Day 1: Welcome to Utah!
Your day begins at 8:00am at our Rendezvous Hotel located in Salt Lake City, UT. Be sure to eat a hearty breakfast before meeting up with the group. You'll be greeted by your Explorer Chick Guides in the morning with an official orientation to follow. We'll then hop into our Explorer Chick Private Transport for our 4 hour transfer to Moab and the surrounding National Parks.
We won't waste any time today as throw on our daypacks and hit the trails in Arches National Park. You'll wander your way between red sandstone walls and up massive rock formations seeking out the some of the 2,000 arches in Arches National Park. You'll look up in awe at the longest arch in the United States, stand under picture perfect arches eroded through time by wind, and soak in your first taste of the Utah Desert Sun.

We'll unpack at our town homes for the next 4 days with views of the rocky mesas and red desert right out our windows.

Distance: 5 miles

Time: 3 hours
Accommodation: Amanda Valentine Bites Town homes
Meals: L, D
Day 2: Need for Speed with Desert Off-Roading & Amanda Valentine Bites Time
Today is all about getting dirty and putting that pedal to the metal! We'll put on our off-roading helmet, buckle our seat belt, and go full throttle into the desert! Our off-road vehicles are 2-seater RAZR beasts that can handle steep uphills, creek crossings, uneven rocky trails, and anything that comes in our way. You'll pair up with another Explorer Chick with each of you having a chance to navigate the desert trails!
Our ATV route will take us to remote areas of the desert that are only accessible with 4×4 vehicles. You'll have the chance to view ancient petroglyphs and a natural bridge while driving your vehicle along cliffs and through canyons.
In the afternoon, we return to our house for some good ol' Amanda Valentine Bites time. She'll be behind the spatula cooking up a healthy din din for all.
Accommodation: Amanda Valentine Bites Town homes
Meals: B, L, D

Day 3: Dead Horse Point State Park and Canyonlands National Park: Island in the Sky
We'll have an extra early morning today, but it'll be worth it as you view the sunrise from the edge of Dead Horse Point State Park. Munch on your breakfast and sip your coffee as the sun paints her colors across the sky.
After an unforgettable sunrise, we'll head over to Canyonlands National Park to tackle the steepest trail in the park. We'll descend over 1,500 feet in 2.7 miles to the canyon plateau below where we'll be greeted by the best lunch spot in the park. Chances are, we'll be the only ones around.

A challenging hike back to the canyon rim will take us up the switchbacks along the cliff side working those calves and earning our dinner! After a triumphant finish, we'll hop back in our van and stop at the best vista viewpoints that the park has to offer. Sweaty, dirty, glamour shots are the best proof of a day well-spent!

Hiking Distance: 5.4 miles

Time: 4-5 hours
Accommodation: Amanda Valentine Bites Town homes
Meals: B, L, D

Day 4: Hike to the infamous Delicate Arch
We're saving the most iconic hike for last - Delicate Arch. This picturesque formation has graced Utah license plates since 1996, the Olympic Relay Torch passed under it in 2002, and now you will have the opportunity to stand under the prominent Delicate Arch to snap your glamor shot.
After our final hike, we'll pack up and say goodbye to the desert as we drive the 4 hours back to Salt Lake City. The memories and red desert dirt on your hiking boots will stay with you for months after you return home.

Plan evening flight departures after 7pm.

Hiking Distance: 2.9 miles
Time: 1.5 hours
Meals: B, L
*Explorer Chick reserves the option to modify trip itineraries at the discretion of your tour director as necessary due to weather, conditions, illness, injury, group dynamics, availability, or other unforeseen incidents.
What's Included:
4 days/3 nights in a shared house near Moab, UT. Shared, 2 Guests per room. Each guest will have her own king, queen, double, twin, or bunk bed. Beds selected at random.
Entrance and commercial permit fees to Arches National Park and Canyonlands National Park
Half Day Off-Roading in a 2-seater ATV. You and your partner will each have the opportunity to take the wheel.

All meals as indicated in itinerary: B-3, L-4, D-3
All tips for included meals.
Guided hiking throughout with 2 experienced Explorer Chick Guides
Private land-transportation throughout itinerary

A detailed Travel Guide with everything you need to know for your trip
The freedom to enjoy your vacation and mindlessly wander!
Small Group experience! Your Amanda Valentine Bites Adventure is exclusive and limited to 9 women
*Packages do NOT include your rendezvous hotel, departure hotel, airfare, airport transportation, alcoholic beverages, travel insurance, Explorer Chick Leader Tips, meals exclusive of itinerary, or costs for additional activities.
Physical Demands:
Just as you would a marathon, you must train prior to your adventure. The itinerary is packed with multiple days of hiking and adventures taking place on a variety of terrain. You should be comfortable with hiking up to 11 miles and a full day with your day pack. You should very easily be able to hike on rough terrain at 2 miles per hour. Please read the itinerary thoroughly with the stated elevation gains and distances.
You should be training on rough and rugged terrain – not perfectly paved sidewalks. Train how you play! Also, find steps, a hill, or the Stairmaster and get to climbing! Your quads, booty, and calves will thank you. Train in all the weather – This even means rain!
Please consider the physical demands carefully as it is for the safety and enjoyment of the group.

Train your tootsies! Do not show up with brand new hiking boots or trail shoes. You should be spending hours upon hours in your boots leading up to your adventure to break them in. Better to suffer blisters at home than to miss out on a hike due to painful hot spots on your feet. This is our number one injury. Do not let it happen to you!

All Guests will be required to sign an Acknowledgement of Physical Demands as part of their waiver upon booking.